---
Useful links to...

Links to Other NZ Clubs:
Canterbury Mineral & Lapidary Club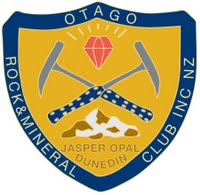 North Shore Rockhounds Club Inc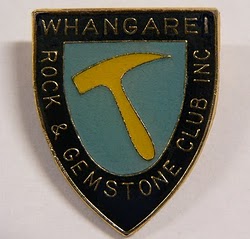 Whangarei Rock & Gemstone Club Inc
Palmerston North Rock & Mineral Club

(Bk78) FOSSILS OF NEW ZEALAND
Colour photographs illustrating over 200 fossils commonly found in New Zealand.Compact, easy-to-use format; the ideal pocket-size travelling companion. Dr Hamish Campbell, Alan Beu, James Crampton, Liz Kennedy and Marianna Terezow. Purchase from GNS Science Publications

A photographic guide to rocks & minerals of New Zealand
Nick Mortimer, Hamish Campbell and Margaret Low. 2011.
purchase your copy and other great titles from GNS Science Publications.
The Kiwi Fossil Hunter's Handbook by James Crampton & Marianna Terezow, 2010
purchase your copy and other great titles from GNS Science Publications.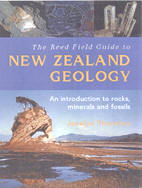 Reed Field Guide to New Zealand Geology (Recommended by Club)

Here you can download a PDF file of Jocelyn's 1985 Book "Gemstones"
The file is in Adobe Acrobat PDF format and is a little over 11 Mb in size.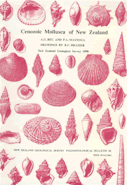 Here you can download a PDF file of Cenozoic Mollusca of New Zealand
The file is in PDF format and very large at 84Mb, you can also order it on CD





COMPREHENSIVE site Claims to be the largest mineral database and mineralogical reference website on the internet. This site contains worldwide data on minerals, mineral collecting, mineral localities and other mineralogical information. Good photos.


COMPREHENSIVE site with many sections. ie: Alphabetical listing, image listing, crystallography, chemical composition, etc. Very informative. This site has many links to many other mineral database listings.


e.explore.rock and mineral combines the best of a traditional reference book with an extra digital dimension. The book's dedicated website has been created with Google, the world's leading search engine. It guides the reader to the most helpful, appropriate and amazing sites the web has to offer.

Virtual Museum of the History of Mineralogy
http://www.rocksandminerals4u.com
A lower level site of some worth.
http://www.minerals.net
A minerals database called The Mineral and Gemstone Kingdom. Lots of data but very small photos.
http://mineral.galleries.com
Amethyst Galleries Mineral Site. Describes over 600 minerals species and over 5000 specimens.
http://www.selectminerals.com
Fine quality mineral specimens for sale. Smallish photos.
http://www.theimage.com
An excellent site with mineral and gemstone pictures and descriptions. Site contains over 600 pictures unfortunately displayed very small. Also tutorials on photography, faceting, geology, and other subjects you will be surprised at.
http://www.valuablestones.com
An online encyclopedia of gemstones.
http://www.minerant.org/home.html
Essentially a collection of miscellaneous links in the rock world
http://www.min.uni-bremen.de/kabinett/index.en.html
Mineral images of specimens from the collection of the University of Bremen, Germany.
http://homepages.ihug.co.nz/%7Epincha/minerals.htm
NZ Micro-Mineral Club.
Free software for cataloging private mineral collections.


Syntech Distributors - Silica Grit for Lapidary Work

GRIT
ORDER CODE
PRICE/KG
MIN. ORDER
80
Silica-CH 80
Price on Enquiry
5 kg
220
Silica-CH 220
Price on Enquiry
5 kg
600
Silica-600
Price on Enquiry
1 kg
Phone 09 820 2121
sales@syntechnz.com
www.syntechnz.com